THIS POST MAY CONTAIN AFFILIATE LINKS. BUT THESE ARE ALL PRODUCTS I RECOMMEND AND USE MYSELF.
Hi. I'm Jeanna Hooper, and I am a fontaholic. I am not in recovery, nor am I seeking help. I didn't choose this life. It chose me. And for that… I am forever grateful. Because part of being a fontaholic means that I can recognize great deals when I see them, and guess what… I have another one to share with you!
Creative Fabrica has been one of my best kept secrets for way too long and I feel like I'm being a hog.
This. Site. Is. AWESOME!!!!!! Let me tell you why. Click any image in this post to be taken to their site when you're ready!
Membership Subscription Options: For $23 a month you can download ALL of their fonts for COMMERCIAL use!!! No restrictions! You can make and sell anything with their fonts as long as you don't sell the font itself or include it in your product (obviously.)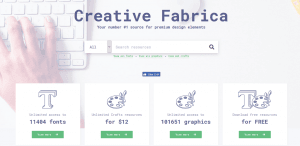 BUT WAIT… there's more
2. They also have CRAFT Membership for $12 for 3 months! Whaaaaat??? Yes! Cut files in SVG, PNG, EPS and DXF! Compatible with Silhouette and Design Space!

3. Don't need a subscription? No worries! You can purchase licenses for individual fonts directly from them as well! Like this UH-MAZE-ING new font from On The Spot Studio. *I need all the heart eye emojis*
4. Yes, another reason! They also have a tool that will search the fonts installed in YOUR computer so you can see them all in one place. Kind of like wordmark.it but they also have a tool that will show the glyphs that the font has and allow you to make lists of your favorites for easy management!
5. If I haven't convinced you by now… maybe FREEBIES will do the trick? Yeah…. freebies! Currently they have over 100! Well… 101 to be exact!
So seriously. Creative Fabrica is probably one of the coolest sites out there for crafters right now and it's growing constantly! If you are a fontaholic like me, just embrace it. Know that this is who you are and that it's okay. Especially now that you can download THOUSANDS OF FONTS for $23. $23!!! Don't do it because I said to… do it because your soul does.
*MIC DROP*
Let that little font hoarder inside you live a little.
Click here or any image in the post to visit them today!
This post contains affiliate links which means if you purchase something using the above links… HoopMama will get credit and love you forever!
Save
Save